Tile roof installations require special attention and expertise. If it is concrete or clay tile roofing you are looking for, contact us today for a consultation, and we will help you determine if, and which tile, is right for your home.
Asphalt shingles come in two basic types: glass fiber and organic. Organic shingles consist of an organic felt material which is generally paper saturated with asphalt to make it waterproof. Organic shingles contain around 40% more asphalt than their glass fiber counterpart which makes them weigh more and gives them excellent durability and blow-off resistance.
Metal roofs are an innovative and cost effective alternative when looking to repair your roof. Many shapes and colors make for infinte options when considering metal roofs.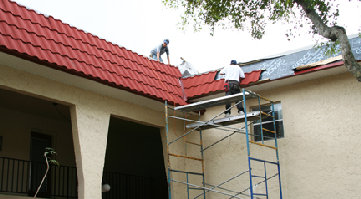 TPO single ply roofing is designed for all types of commercial and residential single-ply roof construction and re-roofing applications.

TPO membrane is suitable for both mechanical and fully-adhered roofing systems.
Flat roofs are used when the pitch is no more than 3 inches and consist of several layers of saturated felt. As laid, each layer is mopped with hot tar or asphalt. The top layer is finished with a mineral or rock covering and a special coating.